Our Curriculum
Anytime Classroom Curriculum
Learn when you can at you own speed in the
MODULE 1 –   BASICS FOR BEGINNERS
(it is and always will be FREE)
NOTE: You require a Sewing Machine with Automatic Buttonhole Feature from MODULE 2
Introduction     Meet your Teacher
Chapter 1       The Sewing Machine Environment
Chapter 2       A Few Important Machine Parts
Chapter 3       Sewing the "Emperor's Clothes" – Thread less Exercises
About Presser Feet
The Sewing Exercise explained
PDF – Print your Stitch Exercise Page
Machine Settings
Reinforcing, Precision Stitching and Turning
Chapter 4      Sewing Machine Threading   
Fill the Bobbin with thread
Thread the needle
Install the Bobbin
Always Test Stitch First
Oh boohoo … WHAT WENT WRONG !?!
Let's play …
Chapter 5       Basic Fabric Construction
The Industrial Loom
Plain Weave … and so much more
Industrial Knitting Machines
Plain Knit
Interesting Facts about Felt
Uses & Characteristics about Felt

Chapter 6       Finishing Raw Edges without an Overlocker
Introduction & Preparation
One Standard Seam
Picking Stitches
Edge Stitch
Bias Enclosed Seam
French Seam
The Flat-Fell or Felled Seam
Chapter 7       The Overlocker – C O M I N G  S O O N
Overview
A Look at the 4 Main moving parts
Oh Wait … There's and especially important 5th
Re-threading Tip
Troubleshooting
Chapter 8       Hand Stitching Fundamentals – It is important – C O M I N G  S O O N
Construct and Decorate a Felt Pincushion
Visualising and Planning
Reading and Cutting a Basic Paper Pattern
Pinning, Cutting and Marking the Felt Fabric
What is Tacking?
Working with Embroidery Floss
Start and End Correctly while Top Stitching
Stuff your Pincushion
Decorate your Pincushion
All the most used Sewing Techniques and Advanced Skills
will be covered in the New Pay Chanel to be Launched in

November 2020!
PAY MODULE 2 . Comprehensive Sewing Course . COMING SOON! ....... open for more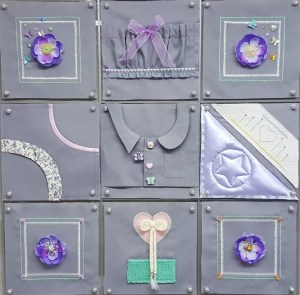 Module 2  
Module 2 offers all the Sewing Techniques you may need for everyday sewing.
All in one place:  your Anytime Classroom and with Extra WhatsApp Support
 (or similar)  when you need it. 
More details at Launch Date.
All materials needed to complete the entire project is packed and sent to you in Kit form when you sign up for Module 2.

 

(Coming November 2020)

You will be able to alter the list of supplies when you sign up. Details Soon.
You will need a sewing machine with the capability to make a One Step Automatic Buttonhole.
An over-locker is not essential but fabulous to have for all future projects.
A Cushion Cover (the 9 Squares above) is produced with all your Sewing Techniques (below) for reference when you need them as you construct many articles…
Below is the numerical but not chronological order.
Squares 1, 3, 7 and 9
In making The Four Corner Squares you have complete creative freedom. Decorations, Beads, Invisible Thread and a Beading Needle are supplied in the Module 2 Kit. Details soon
This exercise develops:

 

Visualisation, Planning & Design, Creativity

 

and working with

 

New Equipment.
Square 2
Gathers and a Casing are covered in this lesson.
Gathers can be used in many different ways:

 

around a cushion, a frill on a

 

skirt or sleeve,

 

neckline

 

and in

 

little girl's clothing

 

etc.
A Casing is where

 

Elastic or a Drawstring

 

is inserted at the waistline for instance.
The making of one-step

 

Automatic Buttonholes

 

is also introduced in this Lesson.
Square 4
Students learn about dealing with the Fraying Raw Edges of woven fabrics.
Bias Binding

 

is used in the first instance and
The

 

Shaped Facing

 

is attached as it is in a Neckline or Armhole.
Two hand sewn

 

Hem Stitches

 

are also covered.
Square 5
This is a Marathon Lesson dealing with:
Peter Pan and Pointed Collars, Lining, Loops for Buttons, Buttonholes

 

again,

 

A Patch Pocket

 

and a

 

Snap Fastener.
Square 6
Five Hand Sewn Embroidery Stitches

 

are learned.
Machine Quilting

 

is undertaken.
Free Motion Machine Quilting

 

is demonstrated. A specialised Presser Foot is required.
Square 8
Basic Knitting and the Crochet of a simple chain is covered to expose novices to the equipment and possibilities.
The Reverse Side of the Project
The

 

Invisible Zip

 

is inserted into the back panels of the Cushion.
For this lesson you will need to purchase a special

 

Zip Presser Foot

 

that fits your particular machine if you have not bought the

 

Empisal EES10

 

Featured in the Tutorials.
Assembly
The correct way to deal with

 

4 Intersecting Seams.
The 9 Squares are stitched together and a version of

 

Simple Patchwork

 

is thus visited in this exercise.
How to

 

Trim and Stitch

 

with the

 

Overlocker

 

is revisited.
PAY MODULE 3 . Pattern Making • The Shift Dress . Coming 2021
PAY MODULE 4 . Sew Your Shift Dress . Available 2021
PAY MODULE 5 . 3 Variations to your Shift Dress Pattern . Available 2021
PAY MODULE 6 . Sew the 3 Shift Dress Variations . Available 2021